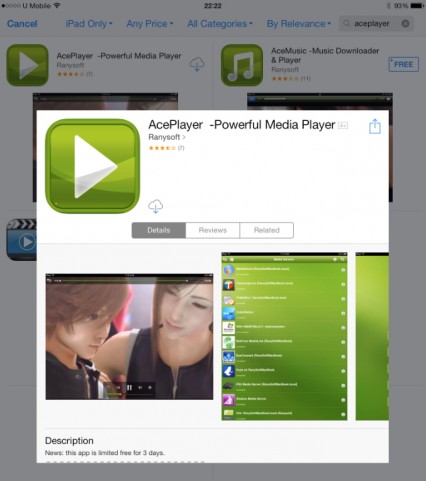 AcePlayer is app for it to watch movies on iPhone, iPad and iPod touch music files without the need to waste time. Movie file can be calibrated to the machine (via iTunes or iFunbox) can open the file at all.
Files that can be played with a AcePlay WMV, AVI, MKV, RMVB, RM, XVID, MP4, 3GP, MPG … Most of this play too. If those files that have been downloaded from the net or from the rib dvd we bought it and play it to the iPad, iPad mini can see the points more generous.
How to use Mod-Z wrote to read that. Tips: How to import music or video to AcePlayer. check download link below.
Back to features as well (I use it often as I want to tell you ) but to use calibrated files to put in the machine to see the movie then. We can also see a stream protocol FTP, Sambar Server Any key that I use frequently is the Sambar Server Settings section is empty. I will be teaching again.
Download. AcePlayer for iPhone, iPad and iPod touch.
ความคิดเห็น - Like เพจ iPhoneMod.net